New Starters Reception Information
Welcome to all New Reception Children and their Parents/Carers. We look forward to meeting you in person in the near future. On this page you will be able to find a range of information and resources to support you and your child as you prepare to start school. Please do not hesitate to contact the school if you are in need of any assistance. During the week of June 22nd you should receive a New Parent Information Pack in the post. Please read through the information and return any documents before Monday July 13th to the school.
School Tour
We are delighted to present a 15-minute video that takes you on a tour of the school grounds and building. As we made this during the lockdown, our classrooms are sadly lacking their usual engaging set-up but we hope it will still give you a flavour of our school. Children will be able to see their cloakroom, classroom, toilet, the hall, the Research Centre and other important areas within the school. This video replaces our usual Summer Term 'After School Tours'.
Meet the Staff
Here's a short video to help familiarise your child with some of the staff they will work with on a daily basis when they start at Hartford Infant School.
Story Time
Reception teachers Mrs Eagle and Miss Legg have recorded themselves at home reading a short story for the children. These are in place of the usual Summer Term After School Story Time sessions, which obviously we can't hold this term. We hope that your child enjoys listening to the stories.
New Parents' Information Evening
We have created an audio PowerPoint for Parents and Carers of new Reception children to access in place of the New Parents' Evening that was scheduled for the start of June 2020. Please watch and listen to this presentation, so that you are aware of how we want to support you and your child in their first year at school.
Getting Ready for School
Please find the resources that we have sent to any pre school settings that are open here or on the panel to the side of this page. Our Talk Book for Nurseries shows the children how the classrooms normally look with photographs of the Bug Rugs they will sit on in class, Stripes Teddy Bear who will become a friend of the class and our school uniform that they will wear.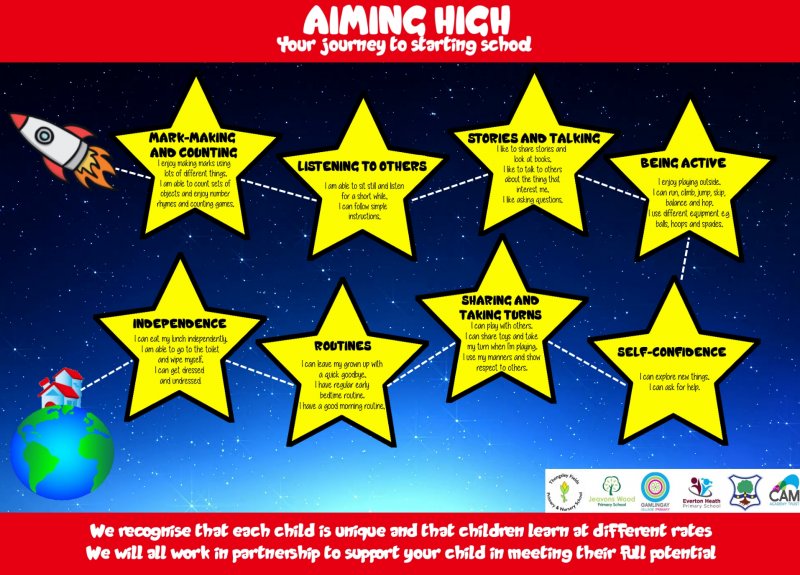 The poster above was created by the EYFS Leads across the schools in The Cam Academy Trust, detailing skills we hope children will be developing on their entry to school. This may provide you with ideas of things you can do over the next few weeks to support your child in preparation for starting school.
Pupil Premium
If you thik you may be entitled to Pupil Premium fund, please complete the form at this link
https://cambridgeshire-self.achieveservice.com/service/Apply_for_Education_Welfare_Benefits
You can find more information on pupil premium and the eligibility criteria by clicking here
Although all children at our school receive free lunches, we urge you to apply for Pupil Premium if you are entitled to it as this will mean your child receives meals when they move into the Junior School, as well as providing extra funding for whichever school they are at.
Bringing out the Best in Everyone